Toll-Free: 1-888-231-3575

Available in 4 options, 3 Lengths, & 2 Widths!
For up to 12 week old calves.

Introducing the Open Air Flex-Pen System – it offers all the great benefits of the Ultra Flex-Pen, now with front and rear metal panels! High-grade galvanized steel panels facilitate excellent air circulation while providing convenient visual access to monitor your calves. Like its Ultra Flex-Pen counterpart, this system effortlessly transitions from single to group housing, simply by detaching the side panels. Integrated Sliding Side Vents complies with specific regional regulations. These innovative solutions allow for versatility with single, paired or group housing. Use the Ultra Flex-Pen Group Housing bar to connect multiple pens.
This new lighter weight indoor pen has a detachable center panel so calves can be grouped together or housed individually for health or welfare reasons. It also has multiple "flexible" setup configurations and can be extended to any length the customer wishes.
FEATURES:
Ultra lightweight for easy setup and cleaning without jeopardizing durability

Single Front and Rear Panels

Self-aligning panels use EZ-Glide Connection Tabs and Rods for easy and quick setup

Easy access to the rear panel – simply lift up the EZ-Glide rod and open rear panel




Integrated Sliding Side Vents to comply with specific regional regulations

Individual penning used to maximize pens per room size

Individual pens interlock together for a clean line of calf spaces
Center panels can be removed to create a group penning option for as many calves as desired

High-grade galvanized steel Front Panel with Pails, Pail rings and an area for Bottle Feeding

Plastics Side panels available in a 5′, 6′, and 7′ lengths to fit any size barn operation and allows for optimum calf space

Front and Rear Panels available in 36″ or 48″ widths

Modular Freestanding penning means no post or install to floor (keep adding to it; no fasteners to install on floor)

Units can also be wall mounted using our optional wall mounting bracket

Bi-Swing Front Door

Slam Latch keeps Front Gate secure

Ultra bio-secure
Open Air Freestanding Starter Kit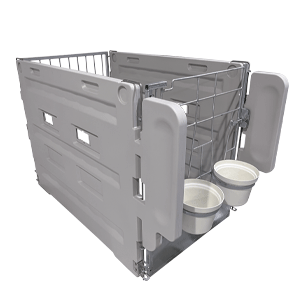 .
Available in 5′, 6′, and 7′ depths and 36″ or 48″ widths.

Comes with 1 front galvanized steel door, 2 side walls, 1 rear galvanized steel panel, 2 buckets, and 2 pail rings.

Bottle Options: Choose Wire Bottle Holder and Bottle, Teat Bucket, or Milk Bar Teat Bucket.
Open Air Freestanding Add-On Kit
Open Air Wall Mount Starter Kit
Open Air Wall Mount Add-On Kit
Bi-swing front door for easy access
Slam Latch keeps front gate secure
Simply lift up EZ Glide Rod and hinge open rear gate for easy access
Open Air Flex-Pen Accessories
Open Air Flex-Pen Photo Gallery